Apnea Total Malta was born out of passion; a passion for a sport that leaves no one indifferent. Freediving is a blissful experience. You will feel emotions that only freediving can bring out, you will discover an amazing sensation of wellbeing and you will find harmony within and around.
We are a team of dedicated and highly experienced freedivers and instructors. We uphold the highest standards of freediving safety, instruction and education.
Our goal is to share with our students and friends our knowledge and passion for this sport in a safe and fun way.
Everyone is different and so is our way of teaching. We adapt our course to our student, not the other way around. We tailor our approach and do not focus on numbers or depth but on relaxation and on executing the techniques the right way. Our students progress faster and quickly reach depth and goals they thought impossible.
"We strongly believe that freediving is for everyone and we aim to always provide the most satisfying experience for our students. Our goal is to share with you a moment you will forever remember."
At Apnea Total Malta, we teach freediving according to the Apnea Total Freediving Education System whose certifications are recognized worldwide.
Apnea Total is one of the largest certifying organizations in the world with more than 12000 certified students to date.
The Apnea Total Freediving Education System focuses on your experience in the water, on the techniques that will make you the best freediver possible. We cover all aspects of freediving but without exams making the course unique, easy, enjoyable and unforgettable.
During the water session, we have an absolute maximum ratio of 3 students to 1 instructor, allowing for greater personalized attention and tuition. The instructor always dives with each and every student to increase their confidence in their new abilities, thus making faster progress, but also to guarantee everyone's safety which is our most important concern.
We adapt our approach to your specific needs in a relaxed and pleasant way. We aim to cater to your individual goals, explore your potential and help you exceed your limits.
We offer courses of all levels from those with no experience to instructors. Whichever course you choose, you will be sure to get a professional and safe freedive experience with us.
We will make you achieve goals you thought impossible. We will give you confidence, mental strength, knowledge and techniques to enjoy freediving in a safe way.
What does Apnea Total Malta offer?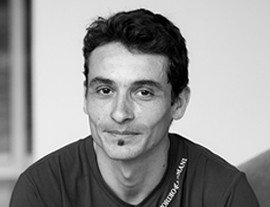 Arturo Hernández

Founder Apnea Total Malta
Apnea Total Instructor Trainer
Born and raised in a small village on the shores of the Mediterranean Sea, Arturo has lived his all life in contact with the ocean and simply can't stay away from it.
Growing up, he practiced several water sports and got his first taste of freediving through spearfishing when he was a teenager. No need to say he was hooked.
Arturo left Spain to travel though Asia where he enjoyed spearfishing and freediving for several years.
In 2013, his travels brought him to Koh Tao and to Apnea Total where he decided to turn his passion into a career and became a Freediving Instructor. Patient and passionate, Arturo teaches freediving as a way to share his love for the ocean. He has taught hundreds of students in English, Spanish and Catalan.
In 2017, Arturo decided to go back to his beloved Mediterranean Sea and opened Apnea Total Malta to continue sharing his passion.